Facade, flooring, ceiling, walls and internal areas are used as the complementary elements for decoration.
There are 16 colours alternatives. The partition is installed by aluminum roof hangers and its original chrome hooks as a separator for such places as cafes, restaurants, hotels, spas, shopping centers, offices, stores and shop windows.
It provides you with a decoratively relieving and transparent appearance. With the colour alternatives, different models and designs can be created with only one colour or with the colours you want.
It hides the unwanted details in the place.
It provides an extremely chic and decorative appearance.
Plexiglass panel, with its 29x29 size, is very easy to apply and is practically designed.
The 2,5cm holes at the 4 edges are installed with screws or hooks symmetrically and in parallel.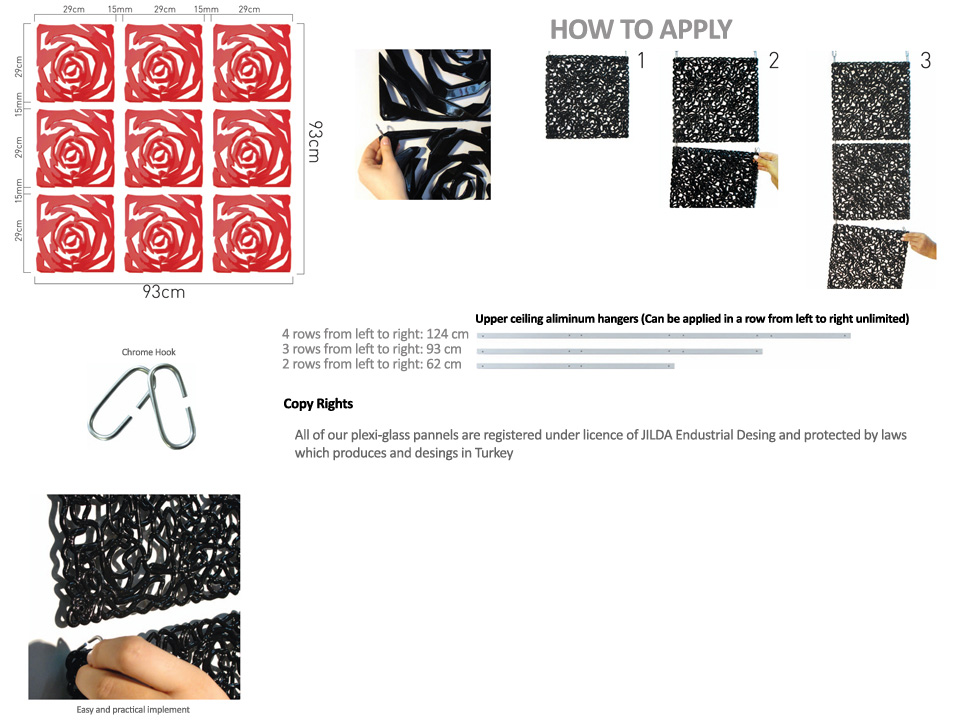 Contents of the package;

1 Piece Suspended Apparatus,
36 Pieces Plexi-glass Panel,
75 Pieces Chrome Hook,
Screws, Anchors.

---

Plexi-glass Panel Industrial Design is registered.
Project Comprehensive Color Production can be done.